January 21, 2020 11:25 am
Comments Off

on What's Best for You When Your Loan Needs Restructuring?
Bank negotiations in Chapter 11 often fall victim day one to an attorney driven process where you lawyer up, the bank lawyers up and nothing gets done.
Having your lawyers negotiate with banks lawyers to cut a deal is time consuming, very expensive, fraught with risk, inefficient, and ineffective.  Were it not so, we would all run our businesses through law-firms. We call negotiating through law-firms the "Attorney Full Employment Act" and you pay both law-firms to act as very expensive messengers to deliver proposals to and from the bank while no-one on your side even talks to the bank much less impacts their decisions. Does that way make sense to you? Is that any way to make a deal? ………….. We Have a Different Way. Our Way Gets Maximum Results. Our Way Saves You Money. Our Way is the Better Way.
THERE IS A BETTER WAY AND IT LOOKS LIKE THIS.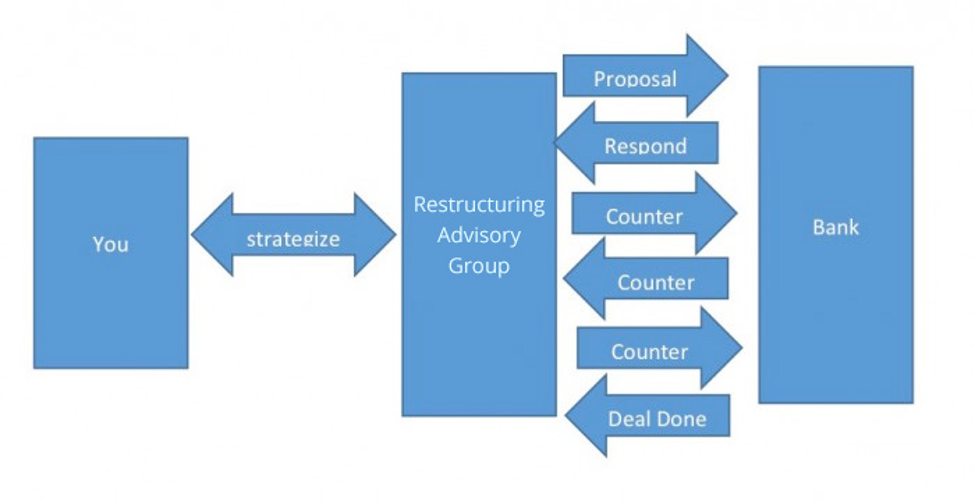 As illustrated above, in Bank negotiation's we will press, be countered, counter back, influence the bank, get countered by them again and come back with a reasonable deal structure for your review.  Often-times, all of that takes place in one sitting.
With Restructuring, Advisory Group, information flows, ideas exchange, negotiations move smoothly and efficiently, deal points get resolved, financing comes to the table and deals get done.
We have the influence at the decision-making level at the banks and the financing to get the deals done. We remove the filter of the law-firms from the negotiating table, confront the Bank with a forceful restructure/refinance roadmap and great things happen. The Bank cuts a deal, you save tens of thousands in legal fees and you win the fight. That's how deals get done and it looks like the diagram on the right.
BELOW IS WHAT YOUR RESTRUCTURE NEGOTIATIONS LOOK LIKE WITHOUT US…THAT'S NO WAY TO CUT A DEAL
How Do Negotiations Proceed without Restructuring Advisory Group?…Remember the "Attorney full Employment Act?" Here's what those negotiations look like…Rube Goldberg couldn't come up with a more absurd way to cut a deal.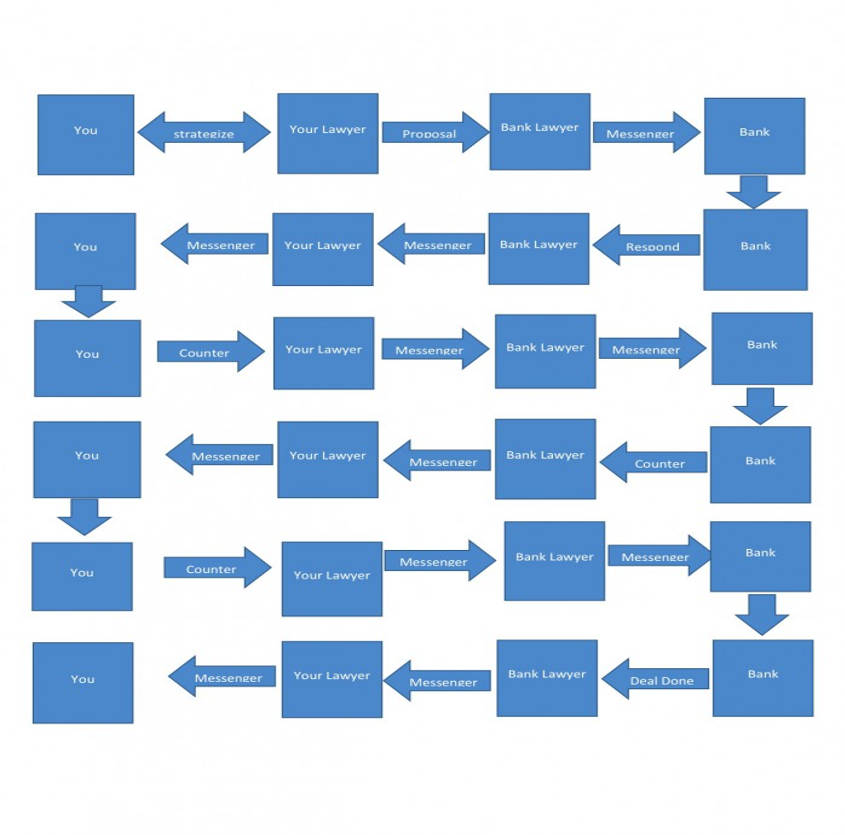 All those boxes above are a real-world snapshot of what negotiations look like without Restructuring Advisory Group:  It's an inefficient and expensive daisy-chain that can only be summed up as follows:  Your Law-firm passes along a proposal to the banks law-firm. The Banks Law-firm then passes the proposal on to the Bank. The Bank never negotiates directly with you or responds directly to your Proposal. The Banks only input on your proposal is input from their Lawyer. The Bank then passes its response on to their lawyer and the expensive inefficient daisy-chain begins again this time in reverse and back and forth it goes while you pay 2 very expensive the lawyers to talk to each other while no-one is negotiating or even communicating for you with the decision-making level at the bank. You would never dream of negotiating any deal this way, yet that's what happens if you don't change course and take control of the process.
The most reasonable of proposals and all the financing in the world won't get the job done if your negotiations are bogged down by the law-firms and believe us…the banks law-firm is not your friend. They are paid large retainers (which is added onto your note balance) to fight you and the corporate culture of bank law-firms is to tell the bank they can and will foreclose on your property.
You may indeed have the best lawyer in the world but he can only communicate with the banks lawyer: Compare that to our way…. We negotiate with and our deals get cut with the decision-making level of the bank.
With Restructuring, Advisory Group, you remove the cumbersome process of your lawyer having to talk to the banks lawyer and deal with his needless interference and unnecessary legal expense and replace it with our hard-nosed direct negotiations and tailor made financing. That's how to restructure and refinance…That's how to win the fight…. That's how deals get done.
We have the resources, the knowledge, the influence with the banks and the capital you need. We are the solution. We guarantee it.
GET CONTROL OF THE PROCESS…. TAP INTO OUR RESOURCES AND GET THE MAXIMUM RESULTS…CALL OR EMAIL US TODAY
Ph# Toll Free 800-357-8247 or 949-466-0022
Categorised in: Restructuring Experts Blog
This post was written by chbfidd1